Online:Mathys
The UESPWiki – Your source for The Elder Scrolls since 1995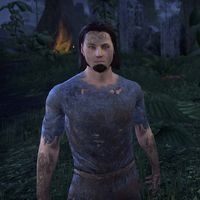 Mathys is a Breton beggar found in various locations around Grahtwood. You can give him some gold as part of the Give to the Poor achievement.
Achievements
[
edit
]
There is one Achievement associated with this NPC:
Achievement
Points
Description
Give to the Poor
15
Share your wealth with needy beggars across Tamriel.
Dialogue
[
edit
]
At your first encounter, he'll say:
"Divines bless you, friend! World's a hard place, these days. My eleven children will surely starve today without a morsel to eat.
Won't you spare some gold for an honest man and his poor children?"
If you've helped him in the past, he'll say instead:
"Oh, my friend! Thank Mara I've found you once more!
Dastards! Miscreants of the very worst cut! As soon as you left they were upon me—beating me, taking the gold you so kindly gave me to feed my poor, starving children!"
Your children are starving?
"Oh, most assuredly. Not a bite to eat in days. Weeks, even!
Won't you please help me out before it's … too late for my eleven sickly children?"
"Oh, thank you, friend! Thank you!
My seventeen sickly children thank you as well. I won't forget this kindness."
Not today, friend. Move along.
"Fine. Be that way. See if I care.
But know that the empty bellies of seventeen deathly ill children is on your head."