Online:Marostaale
The UESPWiki – Your source for The Elder Scrolls since 1995
Marostaale
Home City
Elden Root
Location
Altmer Embassy
Race
Altmer
Gender
Male
Health
39959
Reaction
Justice Neutral
Pickpocket
Medium
Profession
Scholar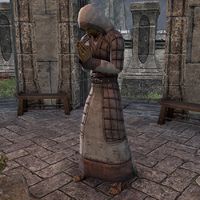 Marostaale is an Altmer scholar found at the Altmer Embassy in Elden Root. When spoken to, he says one of the following:
"The wisdom to work together toward a better understanding of what each arm of the Dominion is doing and what it needs? This is for what I had hoped. This is what seems to have occurred. "
"May Auri-El grant us the wisdom to reconsider our individual desires and concur on a halfway-state that best fits all Dominion peoples here in Elden Root. This is not a time for strength, or certainty, but a measure of social kinship."