Online:Mandolion (Elden Root)
The UESPWiki – Your source for The Elder Scrolls since 1995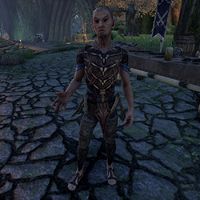 Mandolion is a Bosmer found in the city of Elden Root. You can find him discussing current affairs with his friend Firolmoth in front of Fredevieve Jeanne's store, A Cut Above. He cannot be spoken to.
Dialogue
[
edit
]
Mandolion and Firolmoth will occasionally discuss the state of Valenwood:
Firolmoth: "I'm not sure I like how different things are now. All these High Elves and Khajiit in our forest. It's odd."
Mandolion: "Oh, come on. You're a gatherer, how has their being here affected you at all?"
Firolmoth: "Well, now they tell me places I can't go, because there might be an army there or something stupid like that."


Firolmoth: "I'm not sure what we're allowed to eat, anymore. The Dominion's got all these rules."
Mandolion: "It's mostly the same. Essentially, you can eat anything you could before, just not anything that talks."
Firolmoth: "Really? That's a relief. I don't think I did that very much, anyway. Too troublesome."