Online:Mahata
The UESPWiki – Your source for The Elder Scrolls since 1995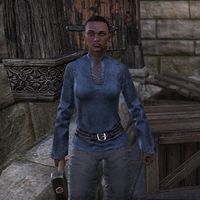 Mahata is a Redguard who works at the Ironworks and Tannery in Anvil. She is Hodana's sister.
Related Quests
[
edit
]
Quest Related Events
[
edit
]
Before the related quest, she says:
"My brother's forge may have seen better days, but he's still the best blacksmith on the Gold Coast. If you need something, you should talk to him."
During your errand in finding work for the Vanos', Mahata will brusquely address you:
"Sorry. Between my brother's problems with the forge and that load of ingots that the puny Dark Elf dropped on the docks, I am way too busy to talk right now."
Puny Dark Elf? Do you mean Raynor Vanos?
"Yes, that was the Dark Elf's name. I gave him a fair chance, but I don't think he ever lifted anything heavier than a book in his entire life.
We had to let him go. With the forge as it is, my brother can't pay a worker who can't do the job."
Raynor's been known to tinker with things. Why not hire him to make your forge more efficient?
"If the Dark Elf can improve the forge, that would be a big help, but we still need those ingots. They were stolen after he abandoned the crate.
The thieves use a dock outside the city. Get the ingots back and I'll give Raynor another chance."
All right. I'll recover your stolen ingots.

"The ingot thieves use an old smuggler's dock along the coast east of Anvil.
They won't part with the ingots willingly, but if you retrieve them, I'll let Raynor work on our forge and compensate him accordingly."

Never mind. I'll inquire elsewhere.

<Ends conversation>
If you agree to find the ingots and then return with them, Mahata will be grateful:
"I have to admit, I never expected to see you again. Were you able to recover our stolen ingots?"
I recovered your stolen ingots.
"We really couldn't afford to lose those ingots. Thank you. You have acted with honor and we'll do the same.
Inform Raynor he can come by and work on our forge. If he really can improve its operations, we'll compensate him fairly."
I'll let Raynor know what you expect of him.
"When the lad's ready, send him to see me. I'll expect that forge to be working better by the end of his shift."