Online:Mad Zebba
The UESPWiki – Your source for The Elder Scrolls since 1995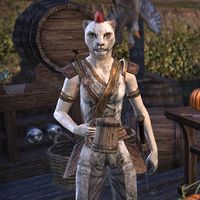 Mad Zebba is a Khajiit beggar and member of the Undaunted found at the Undaunted Enclave outside Elden Root. She can also be found at the Aetherian Archive, where she offers merchant services.
Dialogue
[
edit
]
Elden Root
[
edit
]
If you're not part of the Undaunted:
"(?)"
If you talk to her in Elden Root, she will update your map with the location of Darkshade Caverns if you're part of the Undaunted.
"So nice to talk to a fellow Undaunted. This one is eager to hear about something other than trees."
What brings a Khajiit to Grahtwood?
"It would have to be the cuisine. Bosmer food is perhaps the most complex, subtle, and exquisite in all ofTamriel."
The food is that good?
"Truly, it is!
Take this loaf of bread, for example. Scrumptious—and textured like a wooden post! So delightful to scratch!"
Any leads on where an Undaunted might find adventure?
"This one has heard of giant subterranean creatures called Kwama. Apparently the Dark Elves raise them so they can eat their eggs!
There's a mine in Deshaan, Darkshade Caverns, where one can see these creatures!"
Aetherian Archive
[
edit
]
When spoken to in the Aetherian Archive, she is grumpy.
"This one told the other Undaunted she would sell the wares for a while. She just wanted them to think better of her.
But now they make her do it all the time. This one has learned a sobering lesson: never be nice to friends."
"This one is tired of dragging goods and wares to taverns and monster-infested caves. This one pines for a simple vendor stall.
Khajiit sacrifices a lot to be an Undaunted."