Online:Hranir Icy-Mane
The UESPWiki – Your source for The Elder Scrolls since 1995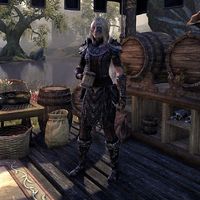 Hranir Icy-Mane is a Nord outlaw and member of the Undaunted found at their enclave outside Mournhold. She will tell you about Darkshade Caverns and Wayrest Sewers, marking their locations on your map if you have not yet discovered them.
Dialogue
[
edit
]
If you're not Undaunted:
"Give me an excuse, and I'll eat your brains from your skill and drink your blood.
This table's for the Undaunted only."
If you are Undaunted:
"Oh, look at this one! You think you're tough?
I've seen adventurers like you frozen in terror—at the creatures I've gazed in the eye—and ripped apart. They should call me the Stout! My hands are huge!"

Anything interesting in these parts? / Have you heard rumor of anything else?
"Thongar over there told me about a kwama mine not far from here, in Siltreen, called Darkshade Caverns.
Dark Elves harvest kwama eggs from the mine—for eating. It's quite delightfully disgusting."

Any other rumors for an adventure?
"Perhaps. In the Daggerfall city of Wayrest, the sewers are infested with all manner of creatures. My half brother lost his arm to a giant crocodile there, in fact.
Now he's—literally—my half brother! Ha! One day I'll flay that beast."

What're you doing in Mournhold?
"Just taking a brief respite.
Even an Undaunted needs time to recuperate. There's caves and delves out there just waiting for me. And I'll go gladly—after a drink or two. And some sleep."