Online:Gladiator Renkathi
The UESPWiki – Your source for The Elder Scrolls since 1995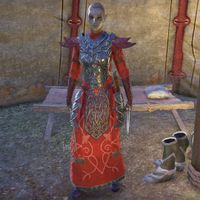 Gladiator Renkathi is a Dunmer warrior who can be found in Vivec City. Talking to her, she'll say one of the following:
"Pit Daemons think they can rule Deathmatch? Ha! As if! Fire Drakes have that locked down."
"Sure, the Storm Lords talk a big game. But once they're on the field they never seem to deliver. Come on, give us Fire Drakes a real challenge!"
"Fire Drakes losing at Domination? Never thought I'd live to see that. Must have been a stroke of bad luck. You know, these socks feel unlucky. I think I'll go burn them."
"Me? Cheer for the Storm Lords? For the Pit Daemons? Never! Fire Drakes forever!"
You can ask her to elaborate:
What's so great about the Fire Drakes?

"Need you ask? Fire Drakes rain down flames of destruction upon their foes! We unleash an inferno to smite our enemies! Fear the Burn!"