Online:Geirvarda Frostwind
The UESPWiki – Your source for The Elder Scrolls since 1995
Geirvarda Frostwind
Home City
Mournhold
Race
Nord
Gender
Female
Reaction
Friendly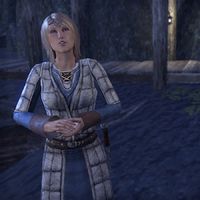 Geirvarda Frostwind is a Nord student found at the docks in the city of Mournhold where she awaits her departure for the academy of Shad Astula.
Related Quests
[
edit
]
Quest-Related Events
[
edit
]
"I've never been this far from home. I can't believe I'm doing this."
Once you've started the quest, you can continue the conversation and attempt to ask for her invitation.
What are you doing?
"Going to attend some fancy Academy of Magic.
My family's never had any magicka, but I … I have the gift. I never wanted it. I never asked for it."
Then why are you here?
"Father wasn't sure what to do with me. When the invitation arrived, he seemed eager to send me on my way.
I've never been this far from Lower Yorgrim before. I don't know if I really want to go to Shad Astula."

(Persuade) Then don't go. You belong back home, with your friends and family. Let me have your invitation.

"You're right. I would just fail horribly at this spellcasting stuff, and I miss my friends already.
I'll tell my father I figured out how to control it, and I'll never use magic again. Here, you can have my invitation."

I could take that invitation off your hands.

"No. I want to, but I'd better not. My family would be angry.
And studying at the Academy has got to be better than herding goats."
Afterwards, if she's given you her invitation:
"I know I made the right decision. I don't belong at some fancy academy. I'm heading back to Lower Yorgrim as soon as I can secure passage."
Despite her reference to "Goat Herding", no Goats appear in Lower Yorgrim, where her family is from.