Online:Foreman Nareen
The UESPWiki – Your source for The Elder Scrolls since 1995
Foreman Nareen
Home City
Vivec City
Race
Dunmer
Gender
Female
Health
39959
Reaction
Justice Neutral
Pickpocket
Hard
Profession
Noble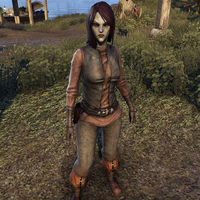 Foreman Nareen is a Dunmer noble who can be found in Vivec City. You can find her to the side of the road leading into the city next to a stone sled and winch. Speak to her, and it's clear she's not having a good day.
""Where's the stone?" they ask me. "Where's the stone?"
I don't know! I don't know where the fetching stone is!"
"What's keeping Mevel? Doesn't he know I need that stone? What's going on at Foyada Quarry? I'm about to go down there myself and give the fetcher a piece of my mind!"
"Overseer Shiralas is going to kill me if we don't get more stone in soon. But do I have a say in that? No, of course I don't. A senseless death if I ever heard one!"