Online:Fish-Whispers
The UESPWiki – Your source for The Elder Scrolls since 1995
Fish-Whispers
Home Settlement
Alten Corimont
Race
Argonian
Gender
Male
Health
25974
Reaction
Justice Neutral
Pickpocket
Easy
Profession
Fisher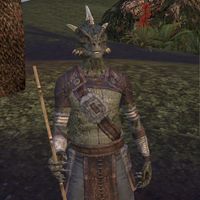 Fish-Whispers is an Argonian found in the port town of Alten Corimont. He can be found along the road leading towards the tunnel that brings you to the Forsaken Hamlet.
Dialogue
[
edit
]
After helping Captain One-Eye:
"The waters will clear soon, now that you've fixed whatever troubled Alten Corimont.
It's a sign."
Sign of what?
"Everything is a sign! The way a shadow falls, the taste of food, the smell of decay …. Signs, if one can decipher them.
Take the ruins across the water. Once, they dominated the landscape, but now they're broken bits of rock. It's a sign."
What's in the ruins?
"I've never been inside, but its energy flows through the rocks. It hums, like a wasp. To me, that's a sign I should stay out. To others, it could be a sign of welcome.
That's the thing with signs. Everyone is free to interpret them their own way."