Online:Ferva Hloril
The UESPWiki – Your source for The Elder Scrolls since 1995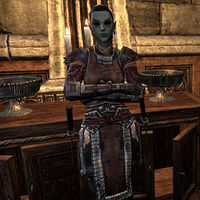 Ferva Hloril is a Dunmer member of the Fighters Guild found in the hall located in the Hollow City.
Dialogue
[
edit
]
When you first enter the Guildhall after King Laloriaran Dynar is rescued, you can overhear Darien Gautier and Valorone argue until Ferva mentions your arrival:
Darien Gautier: "Your nagging is becoming more annoying than my persistent rash. We finally have a secure base—to go back outside without a plan is even too foolhardy for me."
Valorone: You want us to hide behind these walls? To leave our comrades to die while you sip wine and lounge about? You have no honor, knight!"
Darien Gautier: "Don't lecture me about honor, Elf! You have no idea what I've seen or what I've gone through!"
Ferva Hloril: "A moment, gentlemen. Postpone your exchange of harsh words long enough to acknowledge our visitor."
If you speak with her, she will mention that is tired of the arguing.
"All this bickering becomes tiresome. While I agree we can't just leave our brothers and sisters out there, Darien's right. We need a plan."
Even though her dialogue suggests Ferva appears in game when King Laloriaran Dynar is rescued, sometimes she does not appear until The Army of Meridia Restore the Hollow City objective is completed. If she does not appear then her lines of dialogue will not play. ?