Online:Fafnyr
The UESPWiki – Your source for The Elder Scrolls since 1995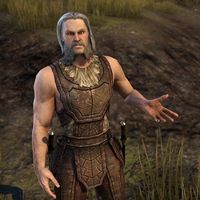 Fafnyr is a Nord found in the settlement of Hrogar's Hold. He is helping Hrogar's son Gar find his younger brother. Bjorick.
Related Quests
[
edit
]
Dialogue
[
edit
]
Protecting the Hall
[
edit
]
Speaking to him for the first time:
Speaking to him after killing spiders and goblins for Gar:
"Your attack on those vermin was heroic.
You made them regret the day they left their stinking dens."
Yes. Was Gar able to find Bjorick?
"We're in trouble. Your diversion worked, and Gar went looking for his younger brother. That's the good news.
The bad news is the Goblins are gathering for a final attack on the hold. Quickly, get to Hrogar and warn him."
After defending the keep from the Goblin invasion:
"Shor's bones, you have to help!
Aggh. Miserable Gobs."
What happened? Where are Gar and Bjorick?
"They're missing! We found Bjorick. We were escorting him home when we were ambushed.
The Goblins must have taken them both!"
Kinsman's Revenge
[
edit
]
"The Goblin attacks have killed most of my kinsmen, and they've taken Hrogar's boys.
The skalds will sing a dirge about this day."
What would you have me do, Fafnyr?
"The spiders encase their prey in cocoons. If Bjorick and Gar were taken, you'll probably find them trapped in one of those silken prisons."
Where should I look for them?
"You'll find spider cocoons along the beach east of the manor house. Look there.
Show no mercy to these craven Goblins and their spider pets."
As you say.
"Check the cocoons for signs of Bjorick or Gar.
There are more spider cocoons near the beach east of the manor house."
Returning after killing the Goblin Warlord:
"You've saved Hrogar's Hold! You have my thanks.
Speak to Hrogar. He wants to reward you for your service. And you deserve it."
After the quest:
"My thirst for revenge has been slaked."