Online:Elonde
The UESPWiki – Your source for The Elder Scrolls since 1995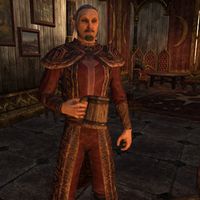 Elonde is an Altmer who can be found at The Waxing Crescent in Rawl'kha. He's in the western lower floor room having a drink by himself. He cannot be spoken to.
Dialogue
[
edit
]
Before you have cleared Fort Sphinxmoth, every so often Elonde will say the following:
Elonde: "Have you heard? Some bandits looted a temple of Arkay in Cyrodiil."
Elonde: "Word is they're holed up in Fort Sphinxmoth, far to the north."
Elonde: "Not surprising, really. With the fighting in Cyrodiil, the Imperials eat each other alive."
Once you've cleared Fort Sphinxmoth, Elonde will say:
Elonde: "You remember those bandits? The ones in the fort?"
Elonde: "Someone came through and rousted them out. Returned the artifacts to the Arkay clergy."
Elonde: "Impressive, I guess. I think I could have done it! If I wasn't so busy."
Due to the wording of Elonde's one-sided conversation, it's possible he was meant to be talking to another character that has been removed. Or possibly Nethrin, who does not respond to him.