Online:Deathlord Bjarfrud Skjoralmor
The UESPWiki – Your source for The Elder Scrolls since 1995
Deathlord Bjarfrud Skjoralmor
Location
Falkreath Hold, Hall of the Dead
Race
Draugr
Gender
Male
Health
926192(?)
Difficulty
Reaction
Hostile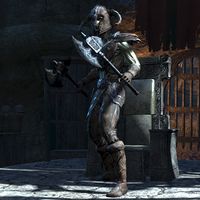 Deathlord Bjarfrud Skjoralmor is a draugr encountered in Falkreath Hold's Hall of the Dead. In life, he was the founder of Falkreath. He will be in a dormant state on his throne until Cernunnon resurrects him by saying, "Wake, little Jarl. See how your kingdom burns? Reap your vengeance."
Related Quests
[
edit
]
Dialogue
[
edit
]
"Usurpers ...? In my hall! Let them come!" - Upon resurrection
"Usurpers! This is my hold and no other's!"
"No injury is left unanswered in my hold."
"Despoilers! Keep your filthy paws off my honored dead!"
"None defy a Jarl in his own home!"
"Beg and I may spare your kin."
"I'll avenge my own—a hundred fold!"
"To Orkey's wretched arse with you."

Upon defeat

"Argh! Unholy curse! I left this world long ago..."

Upon cleansing

"You honor me. Sovngarde calls...."