Online:Darkhu
The UESPWiki – Your source for The Elder Scrolls since 1995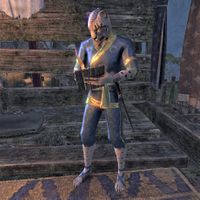 Darkhu is a Khajiit forger who lives in a makeshift dwelling in Senchal with the Alfiq Yashinzhi. He lives in the scaffolding near Mahargo's House. Sai Sahan sends you to him when diplomatic papers need to be forged, so a meeting with a general can be arranged.
Related Quests
[
edit
]
Quest-Related Dialogue
[
edit
]
When spoken to as part of the quest, he'll introduce himself with:
"Whether writ or will or waiver, Darkhu is your savior! Tell this one, what need have you of the finest forger in all of Senchal?"
If you've started the quest, you can tel him:
I need diplomatic papers to get me and a friend in to see General Renmus.
"Interesting, most interesting. Diplomatic papers? Yes, that would get you in to see the shaveskin general.
Of course, skills such as Darkhu's require compensation worthy of his talent."
Will these jewels cover the expense?
"Ah, yes. These beauties will do quite nicely.
Here you are then. Diplomatic papers, all up to date and ready to present. Just make sure you have an appointment, eh? Wouldn't want to walk in on the general unannounced!"
Don't worry. I have a plan.
When spoken to afterwards, he'll say:
"If our business is concluded, then Darkhu has other customers to attend to. In a city such as Senchal, there's never a moment's rest for one with my talents."