Online:Daibiza
The UESPWiki – Your source for The Elder Scrolls since 1995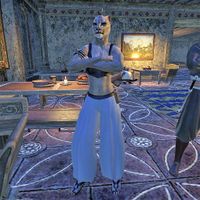 Daibiza is a Khajiit gambler found in Rimmen. During the quest, she'll be among the other gamblers surrounding Jakarn in The Sugar Bowl.
Related Quests
[
edit
]
Dialogue
[
edit
]
As you start to leave the inn, you'll hear the following in the background:
Jakarn : "All right, cats and kittens, like my uncle Edmund always says, best walk while you're ahead. You have yourselves a great night, eh?"
Daibiza : "Oh, not so soon, pink-skin. You have yet to play Daibiza."
Jakarn : "Look, it's been a real pleasure playing with you, but I've got a friend waiting on me. How about we pick things up tomorrow? Double or nothing."
Daibiza : "Well, you will at least let Daibiza and Cherjhad walk you home, yes? The streets of Rimmen are no place for a lone Breton with heavy pockets."
Jakarn : "You know, that's a generous offer, and I'm truly flattered, but you really don't need to worry. I'm spry as a cricket. Pockets light, pockets heavy, whatever."
Daibiza : "Enough. Sit. Now. Do not take us for fools, Jakarn."
Once outside, you'll hear:
Daibiza : "You cheating shaveskin! Get him. Get him!"
Daibiza : "Scour the city! Find that swaggering muskarse!"
Speak to her and she'll tell you:
"You! I saw you speaking with that shaveskin before he fled. Where did he go? Where is Jakarn hiding?"
I didn't see where he went.
"Naturally. Jakarn's bosom friend does not see where Jakarn goes. Bah! You outsiders are worse than the Knahaten flu!
We will find your cheating friend eventually, dung-walker. Count on it."
How do you know he was cheating?
"Besides the cards that fluttered from his pockets as he ran out the door, you mean?
Daibiza knows a cheat when she sees one. And in Elsweyr, cheaters do not pay their debts in gold. They pay in fingers. Keep that in mind, jeek."
Very well. I'll be going now.
"You are lucky Daibiza only chases down clawless jeeks, like your friend, Jakarn. You may wish to leave Rimmen before this one changes her mind."