Online:Colotarion
The UESPWiki – Your source for The Elder Scrolls since 1995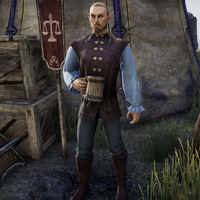 Colotarion is an Altmer battlegrounds supplies merchant who runs Gladiator Trading Goods at the Gladiator's Quarters marketplace in Vivec City. Talking to him, he'll say one of the following:
"I sell only the finest things for the finest combatants."
"All of the Battleground games involve combat. My wares can set you apart from your competitors."
"You want to hear the crowds cheering? For your name to be sung? For victory after victory to be gained by your hand? My shop can help you accomplish it all."
"Something catch your eye? Something hard to find? Something exotic, perhaps?"