Online:Centurion Mobareed
The UESPWiki – Your source for The Elder Scrolls since 1995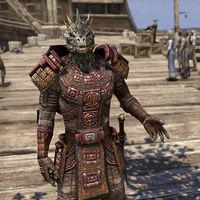 Centurion Mobareed is the Argonian commander of Fort Zeren. He is encountered at the fort if you choose to defend it, or at Davon's Watch if you chose to defend the docks.
Related Quests
[
edit
]
Dialogue
[
edit
]
Breaking the Tide
[
edit
]
Mobareed will greet you as you reach the end of the docks at the very end of the quest, saying:
"I understand I have you to thank for driving the Covenant from these docks. The Pact owes you a debt."
On this unexpected Pact victory, he will say:
"It's like the sun on your scales, isn't it? We almost lost these docks. All these people would have died without your intervention. Thank you. Saving lives is never a small victory."
Upon completing the quest, he will say:
"Head to Davon's Watch and speak with Holgunn. Make sure they've been warned about the Covenant."
Warning Davon's Watch
[
edit
]
If you helped Darj at the fort, Centurion Mobareed will be outside the gate closest to the entrance to Stonefalls. He is flanked by two saluting Pact Soldiers and has some grave news.
"Your victory at Zeren will be welcome news to the Pact.
However, I have to report some grave losses at the dockyards."
What happened?
"There were too many. The Daggers came off their ships in waves. Rana, Seyne, and the others held their ground.
Captain Rana got the Breton who led the sack of Bleakrock."
Where is she?
"Unfortunately, Captain Rana and Sergeant Seyne were both ... casualties.
They'll be buried with highest military honors. And they will be remembered."