Online:Captain Brogomir
The UESPWiki – Your source for The Elder Scrolls since 1995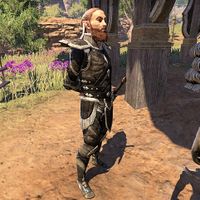 Captain Brogomir is a Bosmer officer of the Aldmeri Dominion. He will arrive at the Sweetwater Farmstead with a message for Razum-dar, after he has stopped a skooma smuggling ring with your help.
Related Quests
[
edit
]
Related Quest-Events
[
edit
]
After you have received your reward from Razum-dar, Captain Brogomir will arrive at the farmstead.
Kideya: "Well, it seems you're good for something at least."
Razum-dar: "Good for something? Raz took down an entire skooma operation, for Jode's sake!"
<Captain Brogomir runs up.>
Captain Brogomir: "Razum-dar! Sir! I have an urgent message for you from Queen Ayrenn!"
Rakhzargo: "A message for Raz? Ha! Who would waste paper on him?"
Kideya: "Rakhzargo, shush. Queen Ayrenn? Razum, what is he talking about?"
Razum-dar: "Raz's next assignment. It seems this one's vacation is over, Mother."
Kideya: "Already? But you only just arrived."
Razum-dar: "Well, Raz could stay for one last meal before he departs."
Kideya: "And letters? Will you write us letters?"
Razum-dar: "Doesn't Raz always?"
If you talk to him after this exchange, Brogomir will tell you.
"Don't mind me. Soon as Razum-dar is ready to leave, I'll be out of your hair."