Online:Brelenel
The UESPWiki – Your source for The Elder Scrolls since 1995
Brelenel
Home City
Cormount
Location
Upper eastern tree, leading to the Foyer
Race
Bosmer
Gender
Female
Reaction
Friendly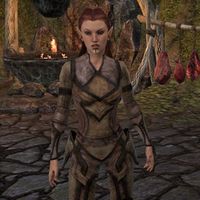 Brelenel is a Bosmer who can be found in Cormount. She is the cousin of Orinol, who met an untimely end in the Clockwork City. Orinol's Dog, Jona, can be found with her.
Related Quests
[
edit
]
Dialogue
[
edit
]
"If you're looking for a handout, keep looking. I have a hard enough time keeping this mangy dog fed."
Are you Brelenel? I have news about your cousin.

"Let me guess! Orinol sent you to let me know he'll be on his adventure for another few weeks, yeah? Well, you go right on back to him and tell him this. Dogs are expensive. He's going to compensate me for all I've spent feeding this rootarse mutt."
I'm sorry to bring bad news, but Orinol is dead.

"He's-what? He's dead? How in Y'ffre's name did that happen?"
You should read his journal. I've brought it with me.

"Orinol's dead. I can barely believe it. My cousin always did crave adventure, but he was always so careful. I never thought ....
No matter. I know why you're here. It's about the dog, isn't it? I always knew he loved her more than he let on."
Will you take care of Jona?

"I suppose I have to. I'll admit, the mutt's more useful than most. She at least keeps the rats at bay. Besides, I don't think anyone else would.
Thank you for letting me know. Here's something for your troubles."
After the quest, if spoken to, she will state:
"Wonder if Jona will ever realize what's happened. Y'ffre knows she clings to me like a bur when Orinol is - well, was gone. Must be tough being a dog.
Don't you worry though, I'll take care of her. To honor my cousin's memory, if nothing else."