Online:Bindabi
The UESPWiki – Your source for The Elder Scrolls since 1995
Bindabi
Home City
Rimmen
Location
In an alley behind Kashraska's House
Race
Dagi
Gender
Female
Health
25974
Reaction
Justice Neutral
Pickpocket
Easy
Profession
Beggar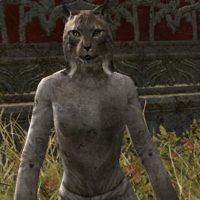 Bindabi is a Khajiit beggar who resides near the Rimmen Artisans District. She lives beneath a tarp behind Kashraska's House , and can be found begging in an alleyway in front of that house.
Dialogue
[
edit
]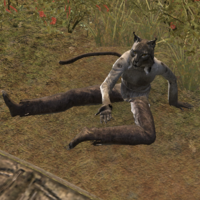 "Bindabi is too weak to work, and too poor to buy food. Please, walker ... spare a coin or two?"
"Alms, walker? Alms for a sick Khajiit?"
"Spare a coin, rhook? Anything … any gold you could part with would be a blessing."
You look ill. What's your affliction?
"Oh, walker. Bindabi's afflictions are like stars on a moonless night. Countless. Countless! But they all stem from the flu.
The Knahaten plague ravaged my village. Killed my uncle, my mother, my father, my … my husband. It ruined everything."
Is there anywhere you can go besides the street?
"No. My people are superstitious by nature. When they see a stricken, scarred Khajiit like me, they kiss their talismans and run away. They think me cursed!
One who has survived the flu can no longer spread it, but the people here do not care."
Here, I hope this helps. [69  gold]

"Oh, bless you, walker! Mara bless you!
This will buy me new dressings and a decent meal at the very least. This one promises she will not forget this kindness!"

Sorry, I can't help you.

"I understand, walker. If you change your mind, Bindabi will be here. She has nowhere else to go, after all."
Gallery
[
edit
]