Online:Ashgar
The UESPWiki – Your source for The Elder Scrolls since 1995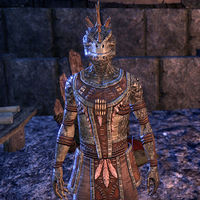 Ashgar is an Argonian who can be found in Haj Uxith. He is the current loremaster of the tribe and is responsible for maintaining the tribe's traditions. Ashgar must be consulted during the Trial of Spirit.
Related Quests
[
edit
]
Dialogue
[
edit
]
"You must be here for the Trial of Spirit. Know that I am the Loremaster of Haj Uxith. I maintain the traditions and customs of my people."
Xohaneel provided me with an amulet to give to you.
"Of course. And which amulet do you think best matches my venerable nature?"

<Give Ashgar the Amulet of Courage.>

"No, thank you. That amulet belongs to someone who demonstrates bravery and conviction when faced with unknown situations."

<Give Ashgar the Amulet of Endurance.>

"Thank you, but no. That amulet is meant for someone who patiently bears the brunt of this harsh land."

<Give Ashgar the Amulet of Preservation.>

"Thank you. My role here is to preserve and pass on the traditions of my people so that each generation never forgets where we came from.
Take this Gem of Preservation. You will need it when you go to the pyramid's upper level."
Post quest, he'll tell you:
"Our customs and our traditions … these are the things that sustain us in this foul land."