Online:Alareth Spring-Fellow
The UESPWiki – Your source for The Elder Scrolls since 1995
Alareth Spring-Fellow
Location
Frostvault
Race
Bosmer
Gender
Female
Reaction
Friendly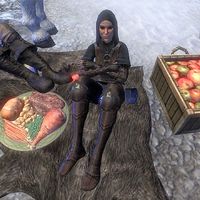 Alareth Spring-Fellow is a Bosmer scholar and member of Tharayya's expedition inside Frostvault.
Related Quests
[
edit
]
Dialogue
[
edit
]
"Sorry, Landal. We tried it your way. I'm not freezing to death out here over goblin diplomacy."
"Did Tharayya convince you to join us? I hope you fare better with the Goblins."
"We'll be frozen solid by the time that barmy Breton gets us safe passage."
Before attempting to open the Vault:
"Tharayya, It's welded shut. There's no way we're breaking through that."
"That construct likely hasn't moved for thousands of years.."
After Tharayya releases the Skeevaton:'
"What is that thing? A brass rat?"
"I've never seen anything like that little rat. Didn't know anyone but the Dwarves made things like that. Might have to visit this Clockwork City when this is all done."
Before fighting Warlord Tzogvin:
"Oh, Landal's in for it now ..."
After killing Warlord Tzogvin:
"I don't suppose they'll give up now that their warlord is dead? Probably not."
After collecting the first item needed for the Dwarven Delver:
"I think we got what we came for, but I'm going to pull a few extra parts just to be sure.
No need for you to wait up, I'll be safe enough, now that you've demolished the sentries."
After collecting the second item needed for the Dwarven Delver:
"Trust the rat, Goblin-hugger … there! Let's get these back to Tharayya."
After beating the Stonekeeper and retrieving the Wrathstone half.
"All this trouble for a hunk of broken stone? There has to be more to it, surely."