Online:Adept Glistel
The UESPWiki – Your source for The Elder Scrolls since 1995
Adept Glistel
Location
Tel Branora
Race
Dunmer
Gender
Female
Health
39959
Reaction
Justice Neutral
Pickpocket
Medium
Profession
Mage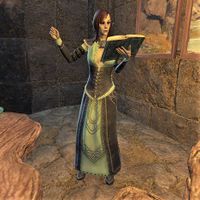 Adept Glistel is a Dunmer mage who can be found in the Tel Branora tower at Tel Branora. She wanders around the first floor reading, researching, and practicing her spells.
Dialogue
[
edit
]
If engaged in conversation, she will say:
"Magister Therana doesn't entertain much. She lives way out here because she prefers solitude. I hope you take the hint."
"What brings you all the way out here? Magister Therana doesn't usually accept visitors. She's an exceedingly private individual, as I'm sure you've heard."
"Magister Therana really doesn't like to be bothered. Unless you have legitimate business with her, I suggest that you leave."
"Tell me about Magister Therana."
"Oh my, well ... she's very mysterious. Unusual, perhaps, but bold. She's going to do great things with her life, I just know it. You don't want to fail her, however. She doesn't abide mistakes. That's why I do my best not to disappoint her."