Online:Acolyte Eldri
The UESPWiki – Your source for The Elder Scrolls since 1995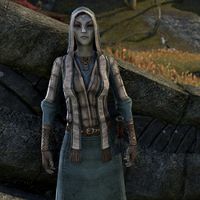 Acolyte Eldri is a Dunmer priest found at the Shrine of Saint Veloth. She will disappear after the related quest.
Related Quests
[
edit
]
After completing A Saint Asunder, Acolyte Eldri can be found on the west side of the reliquary platform.
"I'm sure Dalen is fine. I probably shouldn't worry."
Who's Dalen?
"Healer Dalen. He was headed to Eidolon's Hollow to tend to the wounded. He wanted Dremora hearts. He uses them to craft healing potions.
I collected a few, but he was gone by the time I returned. How will he make his potions without them?"
What can I do to help?
"I followed you around and collected hearts from the Dremora you killed. Easiest job I've had in weeks!
Dalen can make strong healing potions out of them. It's a wonder that something beneficial can come from these creatures."
I'll take the hearts to Eidolon's Hollow.
Acolyte Eldri requests that you take a sack of Dremora hearts to Healer Dalen, who has gone off to Eidolon's Hollow to aid the Temple in the effort against Magistrix Vox. He needs the hearts for healing potions. Luckily, Eidolon's Hollow isn't that far away from the Shrine of Saint Veloth.
After accepting the quest:
"Find Healer Dalen at Eidolon's Hollow. He needs those hearts!"