Online:A Change of Heart
The UESPWiki – Your source for The Elder Scrolls since 1995
This page is currently being rewritten as part of the Online Quest Project.
The page is being both written and checked. All users are welcome to make changes to the page. If you make a change that is relevant to the project, please update this template accordingly, and make sure you have observed the project guidelines.

| | | | | |
| --- | --- | --- | --- | --- |
| | | Help locate the missing members of the Edrald family. | | |
Federic Seychelle, the betrothed of Arlie Edrald, has asked for my assistance in locating the Edrald family. He returned to prepare for his wedding to find that they had mysteriously vanished from their estate.
Quick Walkthrough
[
edit
]
Talk to Federic Seychelle.
Search the Manor House.
Search the Servant Quarters
Search the Windmill.
Search the Undercroft.
Activate the Daedric portal.
Rescue the family members.
Destroy the Sigil Stone.
Detailed Walkthrough
[
edit
]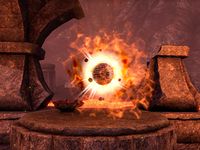 Quest Stages
[
edit
]
A Change of Heart
Finishes Quest
Journal Entry
With no other leads to go on, the manor house seems like a good place to begin our search.

Objective: Search the Manor House

In the chambers of the Baroness, we found a journal indicating she was most concerned about their servant, Dulkhi. A search of the servant's quarters may prove enlightening.

Objective: Search Dulkhi's Quarters

Federic found a journal in Dulkhi's quarters. Perhaps it will shed some light on what happened here.

Objective: Talk to Federic Seychelle

Dulkhi's Diary indicates an affair was going on between her and Arlie Edrald. What's more, it suggests that the Baroness hid something in the windmill not far from the estate.

Objective: Search the Windmill

Hidden away in a toolbox, we found a key to the manor undercroft. Perhaps we will find what we are searching for, there.

Objective: Enter the Undercroft

A thorough search of the Undercroft may be the only way to uncover what happened here.

Objective: Investigate the Undercroft

I located a ritual book detailing the process of opening a portal to somewhere called the Deadlands.

Objective: Achieve Minor Attunement

The book seemed to indicate the basins are the key to activating the gate. A note scrawled in the margin said that the fire basin is the one to start with first.

Objective Hint: Use Basins to Attune Oblivion Gate

I managed to affect a change in the atmosphere surrounding the Daedric gateway in the center of the Undercroft. I should continue experimenting with the basins to see what I can accomplish.

Objective: Achieve Major Attunement

Further success in my attempts to activate the gateway! These basins are the key.

Objective: Achieve Final Attunement

Objective: Attunement Failed

I managed to activate the Daedric portal. If the tome is correct, it should lead to somewhere known as the Deadlands.

Objective: Enter the Daedric Portal

We found Arlie Edrald and Dulkhi on the other side of the portal, evidently unharmed.

Objective: Rescue the Edrald Family

Arlie Edrald may know where I can find the rest of her family.

Objective Hint: Talk to Arlie Edrald

(Appears after you have spoken with Arlie.)
Dulkhi will accompany [sic] on my search for the Baron and Baroness Edrald.

Objective Hint: Save Allan Edrald

Objective Hint: Save Krisandra Edrald

With the Edrald family safe, I must see about destroying the Sigil Stone to ensure this portal remains forever sealed.

Objective: Destroy the Sigil Stone

Hidden Objective: Defeat Velark

The Edrald family has been safely returned to their estate. I should speak with Federic Seychelle and see if there is anything else I can do.

Objective: Talk to Federic Seychelle

(Stage will depend on choice made.) Federic Seychelle has decided to leave the Edrald Estate. Dulkhi wants to speak with me before I leave. OR
Stage when Federic decides to stay.

Objective: Talk to Dulkhi

(Stage will depend on choice made.)Federic Seychelle has elected to leave the Edrald Estate, while Dulkhi has resolved to stay. Arlie Edrald wants to speak with me before I go.
Needs stages where both leave, both stay and federic stays while dulkhi leaves.

Objective: Talk to Arlie Edrald