Oblivion:Silgor Bradus' House
The UESPWiki – Your source for The Elder Scrolls since 1995
# of Zones
1
Console Location Code(s)
AnvilSilgorBradusHouse
Region
Gold Coast
Location
Anvil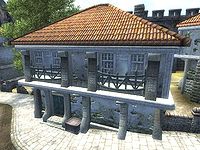 Silgor Bradus' House is a house situated in between the Guildgate and Westgate districts of Anvil. The house is located between Pinarus Inventius' House and the Abandoned House, and is adjacent to Arvena Thelas' House.
It is the sole residence of the Athletics trainer, Rusia Bradus, and consists of only one zone, Silgor Bradus' House.
Residents
[
edit
]
Related Quests
[
edit
]
Silgor Bradus' House
[
edit
]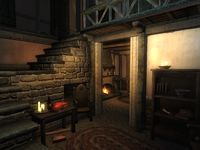 The front door opens to a small entry way. A shelf to the right holds a variety of tableware, a small book collection, and a handbill for the general goods store, Lelles' Quality Merchandise. The entryway table holds a bottle of beer and copies of Trials of St. Alessia, The Amulet of Kings, and A Children's Anuad. On the floor is another handbill, this time for the local Chapel of Dibella, and a copy of Ten Commands: Nine Divines. The dining room is to the right, and is warmed by the fireplace. Upon entering the room, to the right, is a cupboard containing food and a barrel containing clutter. Two pumpkins and a watermelon can also be found nearby. A shelf opposite holds a variety of tableware, and a barrel and several open sacks contain even more food. A table situated along the northern wall holds some silver tableware as well. The dining table holds a bottle of ale, some cheese, several corn cobs, an apple, radishes, leeks, and a carrot. More crates and sacks to the left of the fireplace contain further clutter, and another watermelon is nearby.
A shelf at the base of the stairs contains only clutter. A locked chest containing weaponry is up one flight on the landing. The door to the master bedroom is locked. The room has a double bed, and a smaller fireplace lights up the room. A small table offers a sweetroll and some blackberries. A cupboard on the eastern wall contains common clothing and an unlocked chest on top contains minor loot.