Oblivion:Selene Duronia
The UESPWiki – Your source for The Elder Scrolls since 1995
This page is currently being rewritten as part of the Oblivion NPC Redesign Project.
The page is being rewritten and checked in several stages. If you make an addition to this page, please update this template accordingly, but make sure you have observed the project guidelines.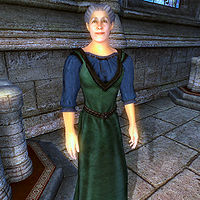 Selene Duronia is an Imperial priestess who is added by the Knights of the Nine official plug-in. She sells spells at the Chapel of Dibella in Anvil. She is a replacement for Trevaia, who is killed when you first install the plugin. She will only appear after you have completed all of the Knights of the Nine quests.
Selene Duronia has exactly the same spells available as Trevaia, but her schedule makes it much easier to purchase the spells from Selene. You simply have to talk to her during one of the time periods when she offers services (see the table section "Services" to the right side of this page). Note that like Trevaia she will buy potions but not sell them, because neither have a hidden merchant container.
Selene wears a blue & green outfit and a pair of doeskin shoes. She carries the Anvil chapel key and a moderate amount of gold. Selene doesn't wield any weapons, choosing instead to rely on a series of spells from the Conjuration and Restoration schools of magic. These are also the same spells which you can buy cheaply off her, as her Mercantile is a mere 10.
She sells the following spells:
* Indicates spells which cannot be purchased from anyone else, though spells with the same effects at different magnitudes can be purchased elsewhere.
** Indicates spells with effects which cannot be purchased anywhere else.
Purchased Spell Notes
The magicka cost for most purchasable spells matches the value you would calculate from the Spell Cost equation. In other words, if you were to create the same spell at the Spellmaking Altar, it would have the same magicka cost as the purchasable spell. There are a few exceptions. Spells that are a bad deal, i.e. more expensive than a custom spell, are in red; spells that are a good deal are in green. The magicka cost if you were to create a custom spell at the Spellmaking Altar is shown in parentheses.
The magicka cost for spells is dependent upon your skill in the school (as modified by Luck, see Magic Overview). The provided baseline values are the magicka cost when your skill level is 33. For other skill levels the magicka cost can be determined from:
Cost * (1.4 - 0.012 * Skill)
More powerful spells cost more to buy, have a higher skill requirement, and consume more Magicka.
Level indicates what skill level you must reach (or surpass) in order to use a spell. Skill Level 0-24 = Novice, 25-49 = Apprentice, 50-74 = Journeyman, 75-99 = Expert, 100 = Master.
The base cost in gold that you must pay to purchase a spell is always three times the current magicka cost of the spell, taking into account your character's skill level and Luck. (The actual cost you pay is further increased based on how well you haggle with the merchant.) Therefore, if you have any Fortify Skill or Fortify Luck spells/potions handy, you can get significantly better deals when purchasing spells.
She is referred to as Charde by game data.