Oblivion:Nonungalo
The UESPWiki – Your source for The Elder Scrolls since 1995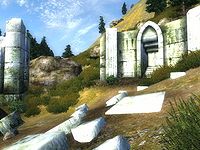 Nonungalo is a medium-sized Ayleid ruin between Chorrol and Skingrad containing monsters. It contains two zones: Nonungalo and Halls of Nonungalo.
Exterior
[
edit
]
The exterior is located at coordinates: Tamriel -26, 12
This location's map marker (M on map) is named Nonungalo (editor name NonungaloMapMarker). The entrance door is W of the marker, 20 feet away.
3 Wilderness Creatures (Highlands variety) are near the entrance
2 Wilderness Creatures (Mountains variety) are near the entrance
1 Wilderness Chest 01 is on top of the ruins, above the entrance
The following plants can be found near the entrance: 17 Motherwort plants
Zone 1: Nonungalo

[

edit

]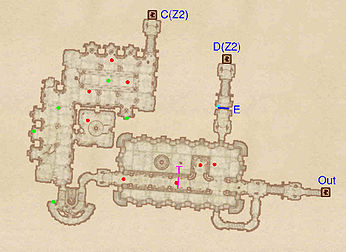 The first room in this zone has a spiked barrier trap (T) on the upper level of the room that can slow progress to the rest of this zone. You can, however, use it to your advantage here as well by luring monsters onto the platform and letting the barrier take care of them. There is no need to explore this room's lower level, as only additional monsters live down here and the gate at E can only be opened from the other side.
Past this area is a large L-shaped chamber that contains, besides the normal generic enemies and loot, all of this zone's Welkynd stones. Two of this area's casks are hidden near or behind the Welkynd Stones, so keep your eyes peeled. There is no need to visit the room located off-course here, as it contains nothing of interest.
Occupants:
Treasure:
Traps:
Doors and Gates:
There are three doors in/out of this zone
1 Iron Gate (opened remotely) at E
Zone 2: Halls of Nonungalo

[

edit

]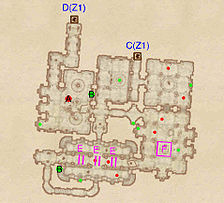 Upon entry from door C, you will be on a corridor overlooking a small room. To the left is a room containing two enemies and a minor cask. To explore the rest of this dungeon, you need to jump down from the balcony into the room below you. From here, the next area has three sets of falling blade traps (marked E on map) on its upper level. Also located above is an easily-missed boss reliquary at location B in this room. You do not require any high Acrobatics skill to reach it; simply jump across the sections of wall that jut out into the room to reach the chest.
Past here is a chamber containing several Welkynd stones, two more minor casks, and a spike pit (marked F on map). Enemies from the previous room can be lured across the platform housing the blade traps and then onto the spike pit to seal their doom, supposing they have low-enough health. From here, follow the corridor nearby to reach the boss area, complete with boss enemy (A) and boss coffer (B in this area), as well as the last of this ruin's Welkynd stones. After clearing this area of beast and treasure, exit through gate D to return to the first zone (you'll have to open a gate in the first zone to completely return, however).
Occupants:
1 boss-level Monster at location A on map
7 Monsters
Treasure:
1 boss-level Ayleid Coffer (Monster variety) at location B on map
1 boss-level Ayleid Reliquary (Monster variety; locked) at B
3 Ayleid Casks 01 (1 locked)
3 Ayleid Casks 02 (1 locked)
7 Welkynd Stones. 3 are in the room containing the boss, and four are in the room with the spike pit trap. All are on highly mounted pedestals.
Traps:
Doors and Gates:
There are two doors (at D and C) in/out of this zone, both leading to the zone Nonungalo