Oblivion:Gul gro-Burbog
The UESPWiki – Your source for The Elder Scrolls since 1995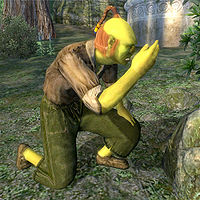 Gul gro-Burbog is an Orc savant who is a devout worshipper of the Daedric prince Clavicus Vile. He, along with fellow worshippers Ma'Raska and Anedhel, can be found at Clavicus Vile's Shrine.
Like the other worshippers he will spend all his time at the shrine, but will keep himself busy. If he is not wandering around, he will sit on one of the benches, kneeling before the lit candles or leave an unknown offering at the foot of the shrine.
He wears a set of lower class clothing: a collared shirt, green felt linens and a pair of buckled shoes. He carries an iron dagger and a small amount of gold.
If you have not started Clavicus Vile's quest he will simply say: "He is a hard master, but he delivers. I gave my word, and an Orc honors his word."