Morrowind:Cavortius Albuttian
The UESPWiki – Your source for The Elder Scrolls since 1995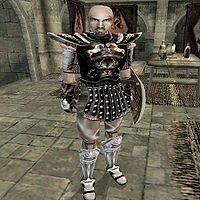 Cavortius Albuttian is an Imperial warrior serving as Knight of the Garland at the Imperial Guard Garrison in Ebonheart. He is second-in-command of the Imperial Legion in Vvardenfell, as well as head of the Imperial Guard unit stationed in Ebonheart that is responsible for protecting the Duke and his representatives.
He does not offer any quests for Legion members, but he does provide advancement in the Legion and allow you to make amends if expelled like the other garrison commanders.
Cavortius wears an Imperial steel cuirass, pauldrons, gauntlets, and boots, along with an Imperial shield and a pair of common pants. He carries up to 100 gold. Aside from his natural charm and ability to absorb fatigue from others, he knows no spells.