Morrowind:Azura
The UESPWiki – Your source for The Elder Scrolls since 1995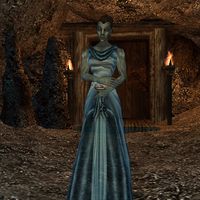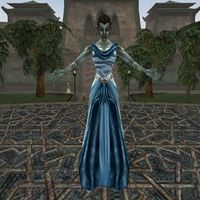 Azura of the Crimson Gate (also known as Azurah, the Queen of Dawn and Dusk, Mother of the Rose, and Queen of the Night Sky) is a Daedric Prince whose sphere is dawn and dusk—the magic in-between realms of twilight—as well as vanity and egotism. She was also the Anticipation of Sotha Sil. Azura is one of the few Daedra who maintains the appearance of being "good" by mortal standards, and presumably feels more concern for the well-being of her mortal subjects than other Daedric Princes. She is one of the few Daedric Princes who constantly maintains a female image, and is perceived accordingly.
For more information, see the main lore article.
In Morrowind, Azura appears at the end of both the main game and the Tribunal expansion to deliver her outro monologues. She also delivers the intro speech before Jiub wakes you up. She is actually implemented as an activator in both games (Morrowind editor ID azura spirit, Tribunal editor ID azura spirit_trib) and thus cannot be interacted with. By appearance, she is a Dunmer. Her behavior in the endgame is controlled by scripts attached to the activators.
The Shrine of Azura (visible from a distance due to the huge statue atop it) is located in far southeastern Vvardenfell, in the Ascadian Isles region (though it is on the mainland). The smaller statue of Azura inside the shrine can be activated for a quest.