Lore:Sil-Var-Woad
The UESPWiki – Your source for The Elder Scrolls since 1995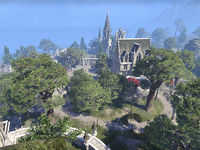 Sil-Var-Woad is a zoo located on the Summerset Isle, within the province of the Summerset Isles. Sil-Var-Woad is the host of the Royal Menagerie, which holds a wide range of exotic animals that come from the mainland of Tamriel, including Mammoths and Lions.[1] It even serves as the home of the pets owned by the Alinor royalty. The village of Sil-Var-Woad would be renamed into Silver Wood, following the arrival of the Third Empire, as they wrote maps of the Summerset Isles.[2][3]
History
[
edit
]
During the Interregnum around 2E 583, the Royal Menagerie of Sil-Var-Woad was the home of Queen Ayrenn's childhood pet, Lotus, an Indrik. At the time, Indrik was taken care of by an Altmeri Keeper named Talomar, while the zoo was administrated by Conservator Vinelore. Vinelore was opposed to Queen Ayrenn's open borders policy for the Summerset Isle, which allowed non-High Elves into the sub-continent. Vinelore had conducted sacrilegious experiments on the local Indriks, attempting to learn about their abilities, to attain the High Elves' natural primacy over the mainland races of Tamriel. To investigate these experiments, a member of the Eyes of the Queen had sabotaged the zoo, causing the animals to ransack across Sil-Var-Woad, closing the site to the public. Talomar and a Newcomer had undergone the investigation themselves, uncovering Vinelore's plot and ending her exploits before it involved Lotus. It is unknown what happened to Sil-Var-Woad afterward.[4]
During the Imperial Simulacrum in the late Third Era, the village of Silver Wood was still an active settlement, being under the reign of Lord Coreman. It had a rivalry with Thorheim Guard.[2] It was neighbored by several settlements, including Dusk in the southwest, and Shimmerene in the northwest.[5]
Gallery
[
edit
]
References
[
edit
]