Arena:Mournhold
The UESPWiki – Your source for The Elder Scrolls since 1995
"You enter Mournhold, lost City-State of the first empire. It is said that a great evil resides under this city, slowly driving its citizens mad. It is said that none have ever seen the bodies of the slain after the a battle is over on this soil..."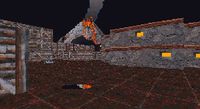 Mournhold is a city-state located in east-central Morrowind. The ruler is King Zirik. Its rivals are Ebonheart, Narsis, Necrom, and Tear.
Locations
[
edit
]
Inns

Black Dungeon
Blue Eagle
Crimson Djinn
Crimson Huntsman
Crimson Wolf
Dancing Castle
Devil's Eagle
Devil's Huntsman
Devil's Jug
Flying Pit
Gold Jug
Gold Ogre
Green Golem
Haunted Chasm
Howling Guard
Laughing Cup
Laughing Dungeon
Laughing Goblin
Lucky Helm
Silver Giants
Thirsty Chasm
Thirsty Golem

Temples

Brotherhood of Charity
Brotherhood of Faith
Brotherhood of War
Conclave of Faith
Conclave of the One
Order of the Gentle Hand
Order of the Golden Tomb
Order of the Red Rose

Stores

<random>'s Equipment Store
Bargain Gear Store
Bargain Provisions
<random>'s Merchandise
Elite Gear Store
<random>'s General Sundries
New Provisions
Rare Merchandise
<random>'s Gear Store
<random>'s Quality Tool Store
<random>'s General Weaponry Store
The Adventurer's Tool Store
The Basic Tool Store
The Emperor's Tool Store
The Practical Armaments
The Practical Merchandise
The Practical Supply Store
The Wyrm's Provisions
The city-state Provisions
<random>'s Finest Armaments
Unearthed Accouterments
Unearthed Weaponry Store
Mournhold is a possible starting location for Dark Elves.