Arena:Kragenmoor
The UESPWiki – Your source for The Elder Scrolls since 1995
"Kragenmoor holds the western border of Morrowind. You are struck by a chill wind that seems to flow through your clothes and to your very bone..."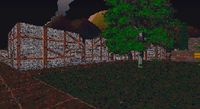 Kragenmoor is a city-state located in western Morrowind. The ruler is King Shalpar. Its rival is Ebonheart.
Kragenmoor has road connections to Karththor Dale, Oaktown, and Stonefalls.
Locations
[
edit
]
Inns

Dancing Griffin
Dirty Chasm
Dirty Mug
Flying Dragon
Flying Jug
Flying Sword
Green Cup
Green Sword
Haunted Mug
Haunted Wolf
King's Skull
Laughing Golem
Red Bird
Red Guard
Screaming Sword
Silver Griffin
Silver Ogre
Thirsty Guard
White Castle
White Jug

Temples

Brotherhood of the One
Conclave of Baal
Conclave of Faith
Conclave of Mercy
Order of the Knights of Hope
Order of the One Prophet

Stores

Bargain Accouterments
Elite Accouterments
Elite Armaments
Elite Equipment Store
Elite Merchandise
New Accouterments
Rare Armaments
<random>'s General Gear Store
<random>'s Quality Supply Store
<random>'s Supply Store
The Practical Merchandise
<random>'s General Provisions
<random>'s Quality Gear Store
Unearthed Equipment Store
Vintage Gear Store
During the game's development, Kragenmoor's gladiatorial team was "the Warhammers" and its introductory text would have been:
Kragenmoor holds the western border of Morrowind. Its team, the Warhammers, have enjoyed a unique reputation. Up till now they are the only ones to have successfully killed every opponent who has ever challenged them...