Arena:Helstrom
The UESPWiki – Your source for The Elder Scrolls since 1995
"You enter the city gates of Helstrom, noticing the dark looks the guards give you. They have a reputation of being very dangerous. Perhaps you can change that..."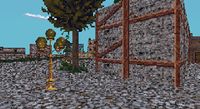 Helstrom is a city-state located in the heart of Black Marsh. The ruler is King Germanus. Its rival is Stormhold.
Locations
[
edit
]
Inns

Black Dagger
Blue Mug
Gold Huntsman
Gold Pit
King's Helm
Red Dungeon
Restless Dragon
Restless Sword
Rusty Sword
Rusty Wolf
Screaming Golem
Unfortunate Goblin

Temples

Brotherhood of Faith
Brotherhood of Mercy
Brotherhood of Temperance
Brotherhood of the One
Conclave of Mercy
Conclave of Solitude
Order of the Golden Tomb
Order of the Knights of Hope
Order of the One Prophet

Stores

Bargain Gear Store
<random>'s Quality Provisions
<random>'s Professional Provisions
<random>'s General Merchandise
Rare Gear Store
Rare Provisions
The Basic Sundries
The Emperor's Gear Store
The Essential Sundries
The Wyrm's Weaponry Store
Unearthed Accouterments
Unearthed Supply Store
Used Gear Store
Used Merchandise
Vintage Provisions
Helstrom is a possible starting location for Argonians.