Arena:Hegathe
The UESPWiki – Your source for The Elder Scrolls since 1995
"Hegathe bids you welcome, and good fortune. We are

home many 

[sic] who would seek the paths of danger. Not a deadlier challenge wouldst thou face elsewhere..."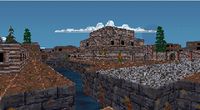 Hegathe is a city-state located on the southern coast of Hammerfell. The ruler is Queen Ghapimti. Its rivals are Gilane and Sentinel.
Locations
[
edit
]
Inns

Black Noose
Blue Dagger
Blue Skull
Dancing Crow's Nest
Dancing Sailor's
Dirty Cup
Howling Tide
King's Cutlass
Queen's Albatross
Queen's Locker
Restless Tide
Silver Noose
Silver Pier
Thirsty Locker
White Gull

Temples

Brotherhood of Justice
Conclave of the One
Order of the One Prophet

Stores

<random>'s Finest Supply Store
<random>'s Equipment Store
<random>'s General Provisions
Elite Armaments
Elite Gear Store
<random>'s Gear Store
<random>'s General Gear Store
New Equipment Store
New Weaponry Store
<random>'s Finest Weaponry Store
<random>'s General Armaments
<random>'s Professional Accouterments
The Adventurer's Provisions
The Practical Supply Store
The Practical Weaponry Store
The city-state Tool State
Unearthed Tool Store
Unearthed Weaponry Store
Vintage Equipment Store
Hegathe is a possible starting location for Redguards.