Lore:Wasten Coridale
The UESPWiki – Your source for The Elder Scrolls since 1995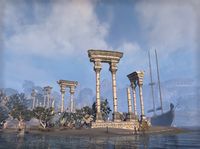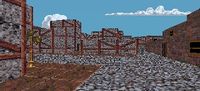 Wasten Coridale (otherwise known as Wasten Coraldale)[1] is an island located off the coast of Summerset, amidst the province of the Summerset Isles. Wasten Coridale is a collection of two islands, with a network of caves similar to a honeycomb. Many exotic creatures and rare findings can be found in Wasten Coridale. In the ruins of the old settlement are the Hanging Gardens, which pays homage to the Earth Bones.[2] The Maormer of the seas are known to occasionally inhabit Wasten Coraldale.[3]
History
[
edit
]
Sometime around 2E 583, a group of Maormer pirates known as the Storm Sharks had taken refuge in Wasten Coraldale, using it as a staging ground against the Isle of Summerset. One of their ships was damaged by saboteurs that just so happen to be on the island. While their fleet was severely damaged, the saboteurs escaped the island and warned the Court of Alinor before the impending invasion.[4]
During the Imperial Simulacrum, there was settlement on the island called Wasten Coridale. It was located off the coast of Alinor, where it was ruled by Lord Kelkemmeril. It had a rivalry with White Guard.[5]
References
[
edit
]