Tes4Mod:Stirk/Cassius Stirk III
The UESPWiki – Your source for The Elder Scrolls since 1995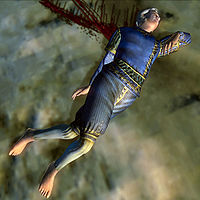 Cassius Stirk III was an Imperial noble who was traveling home from Wayrest in High Rock about the Kintyra II when it sank. Cassius was one of only four survivors, and was unfortunate enough to be captured by goblins from Broken Fang Cave. He was even more unfortunate to be killed by them before being rescued.
His corpse is still clad in upper-class clothing consisting of blue silks and a blue silk shirt.
Cassius was evidently much-beloved by his family. Morihatha Stirk will tell you, "My father, Cassius Stirk, is a wonderful man and a kind father." Other residents ponder his absence, "Cassius Stirk has been in Wayrest for a while. I wonder when he'll be back." His daughter will tell you, "I'm Castameloria Stirk, eldest of Cassius Stirk's children. My uncle Cartello says he's too busy at the fort, so I manage the family affairs," showing that the Captain was far harder working than his brother Cartello ever was.