Tes3Mod:Tamriel Rebuilt/Telvanni Council House
The UESPWiki – Your source for The Elder Scrolls since 1995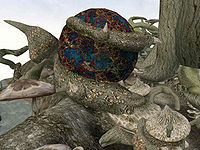 The Telvanni Council House is the meeting place for the ruling council of House Telvanni on the mainland.
In theory, it is where the politics of the House Telvanni are decided. The reality is that each Telvanni Master often has his own agenda but here in the council house compromises are reached to make a common decision. So this is where you can find the mouths, the spokes-men and -women of each Telvanni Councilor. They are the first quest givers that you encounter on your advance through the ranks of the House Telvanni. This is also the working place of Vero Renim, the administrator of the House, who handles the advancement of the lower ranks.
The council house is easy to find, because it is the giant orb in the center of Port Telvannis. The Entrance room is the working office of Vero Renim and upstairs you can find a small enchanting shop led by Melisan Endureth. In the same room as this shop is the entrance to the Vaults. One level higher than Melisan Endureth's shop is the entrance to the Chambers.
The Vaults are obviously filled to the brim with treasures, but to reach them one must travel trough a series of winding cavern hallways and then unlock a door with a lock of 90 and a trap. The treasures themselves are guarded well by two Telvanni Guards, two Vermai and the experienced mage Hlarven Redis. Highlights of the vaults are: a glass tower shield, ebony greaves, a glass spear, a glass katana and a daedric dagger, along with many more expensive items.
The Chambers section basically is a large dome in which you can find the debating Mouths. They are all standing on balconies high in the dome. To reach them you should walk up the little section of stairs on the ground level. The last platform on that section grants you levitation.
Related Quests
[
edit
]
Name
Race
Class
Faction
Level
Health
Magicka
Alarm
Fight
Location
Notes
Areth Morvayn
Dunmer
Mage
House Telvanni

(Caster)

20
112
164
90

30

Chambers
Starts the quests: A Message from Vvardenfell, Plague
Fervas Shulisa
Dunmer
Mage
House Telvanni

(Caster)

20
107
164
90

30

Chambers
Starts the quests: Dispatch to Eldale, Message to Bal Gernak
Hlarven Redis
Dunmer
Mage
House Telvanni

(Spellwright)

32
153
200
100

40

Vaults
Malvas Relvani
Dunmer
Mage
House Telvanni

(Caster)

20
112
164
90

30

Chambers
Starts the quests: Ingredients for Lord Dral, Uncharted Waters
Melisan Endureth
Dunmer
Enchanter Service
House Telvanni

(Wizard)

25
135
200
90

30

Entrance
Merchant, Enchanter
Nethan Marys
Dunmer
Mage
House Telvanni

(Caster)

20
107
164
90

30

Chambers
Starts the quests: Fresh Delivery, Seeds for Faruna
Nevrile Omayn
Dunmer
Mage
House Telvanni

(Caster)

20
107
164
90

30

Chambers
Starts the quests: A Warning in Firewatch, Census in Ranyon-ruhn, Peacemaker To Catch a Spy
Norahin Darys
Dunmer
Sorcerer
House Telvanni

(Caster)

20
142
192
90

30

Chambers
Starts the quests: Books of Faith, Fools that Meddle
Vero Renim
Dunmer
Mage
House Telvanni

(Lawman)

30
150
198
100

30

Entrance
Features in the quests: Balancing Act, Chores in Port Telvannis, Concerns of a Lord