Skyrim:Small House Layout
The UESPWiki – Your source for The Elder Scrolls since 1995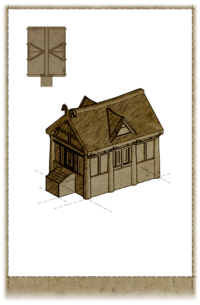 The Small House layout is the most basic version of a personally-constructed home you can create. Once the Main Hall is built, you can remodel this part of the home into an entryway. See the Main Hall page for details. Upon construction it will contain a chest, which is safe to use and will retain its contents even after remodeling, as will all the other storage containers (apart from the satchel).
The following is a list of possible furniture items and decorations which can be added by using the carpenter's workbench in the small house. It is not necessary to purchase or build all furnishing options; you can pick and choose to better dictate style. However, all furnishing options are in a pre-arranged location and only ingredients and standard items can be moved. Oftentimes, the name of the furnishing option only indicates the primary piece of furniture, and actually includes various additional containers and accessories.
Construction
[
edit
]
Small House
Layout


Step
Parts
Materials
1
Foundation
Sawn Log, 10 Quarried Stone
Wall Framing
6 Sawn Log, 10 Nails
2
Walls
2 Sawn Log, 8 Nails, 4 Clay
3
Floor
4 Quarried Stone
Roof Framing
6 Sawn Log
4
Roof
10 Nails, Sawn Log
5
Door
Iron Fittings, Sawn Log, Lock, 2 Hinge, 2 Nails
Total Materials:
4 Clay, 2 Hinges, 1 Iron Fittings, 1 Lock, 30 Nails, 14 Quarried Stone, 17 Sawn Logs
(1 Corundum Ingot, 6 Iron Ingots)
Furnishing Options
[
edit
]
A number of miscellaneous items are added with various furnishing options, but only notable items are specified on this table. This includes usable containers, any food or ingredients on hanging racks, or items which can be used for crafting activities. Though they are added to your home, other common items and ingredients are not listed here. Note that the icon displayed for each furnishing option does not necessarily represent what is actually built in your home.
If you're planning to build a full house and remodel the small house into the entryway, you may want to hold off on some of these. While some of the items are retained as they are, or get moved to other parts of the house (notably the Double Bed will be moved into the bedroom upstairs), others are lost, and thus a waste of materials. In particular the satchel from the "Wall Shelves" option (above the chest) will disappear, along with anything in it. The other containers are not affected and are safe. Most of the containers are available to build after remodeling, except the end table, so you may wish to construct it beforehand to gain an extra container (but see note below table).
Small House Layout Furnishings
Type
Options
Materials
Notes
After Remodel
Containers
Barrels
Sawn Log, Nails, Iron Ingot
One at southwest corner with two sacks.
One at northeast corner with one sack.

Retained

Dresser
Sawn Log, 3 Nails, Iron Fittings
East wall, back.

Retained

End Table
Sawn Log, 2 Nails
East wall, front.

Retained

†
Furniture
Double Bed
2 Sawn Log, 2 Nails, 4 Leather Strips, 2 Straw
East wall, middle.

Moved to east bedroom

Square Table and Chairs
2 Sawn Log, 4 Nails
West wall, middle. Only includes one chair.

Moved below west staircase

see Bugs
Shelves
Corner Shelf
Sawn Log, 3 Nails
Southeast corner.

Retained

Tall Shelf with Display Case
2 Sawn Log, 4 Nails, Glass, Hinge
West wall, front.

Moved to west bedroom

Wall Shelves (3)
Sawn Log, Nails
East wall, back.
West wall, back. Adds one satchel.
East wall, front.

Moved to west bedroom

Exterior
Wall Sconces (2)
Iron Fittings, Goat Horns
One on each side of door.

Retained

Miscellaneous
Firepit
Quarried Stone
Northern side of room. Adds cooking pot.

Lost

Hanging Rack
Iron Ingot, Iron Fittings
West side. Hanging items: garlic braid, pheasant, dried elves ear.

Lost

Wall Sconces (2)
Iron Fittings, Goat Horns
South wall, either side of door.

Retained

Total Materials:
1 Glass, 2 Goat Horns, 1 Hinge, 4 Iron Fittings, 2 Iron Ingots, 4 Leather Strips, 20 Nails, 1 Quarried Stone, 11 Sawn Logs, 2 Straw
(6.5 Iron Ingots in addition to the 2 already listed)
†
This end table is removed by the UHFP and related mods in favor of a bench that occupies the same space.
Although the square table is moved under the western stairs when the small house is converted to an entryway, the new table remains available for purchase. Doing so will remove the entry from the available upgrades, but provide no new furniture or items. (details)
Locations
Main House
East Wing
North Wing
West Wing