Shivering:Inlet Camp
The UESPWiki – Your source for The Elder Scrolls since 1995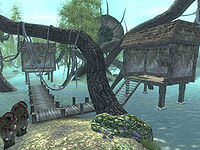 Inlet Camp is an abandoned campsite directly south of Fellmoor.
It lies almost directly next to the cave Rotten Den. The site consists of two camping platforms connected by docks. Where you enter the camp, the dock-bridge leads over to a small island. There is another dock platform which leads slightly to the right and directly straight ahead to both camping platforms.
The first camping platform (which is located to the right) contains two bedrolls and two minor loot chests. There is also a copy of Guide to New Sheoth next to a chair. The second camping platform consists of one bedroll and a minor loot chest and table with a shambles skull and the books The Ravings of Fenroy and The Shivering Bestiary.
There is also a leveled Scalon or Baliwog in the water nearby.
Contents
Flora