Shivering:Alyssa
The UESPWiki – Your source for The Elder Scrolls since 1995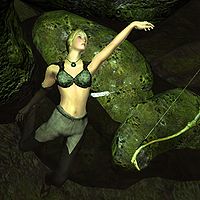 Alyssa was a Breton conjurer and wife to Traelius. After a few months living in Dire Warren with her husband, who wished to escape the noise in the city, she decided to leave and return home. On her way back, she fractured her leg by falling next to the waterfall where she used to bathe. After three days of calling for help, she dragged herself to the end of the stream and lay there awaiting her "freedom".
You will come across her body in Dire Warren, Subterrane at the southern end of the stream. Her body is laid across a boulder; her unique bow, Ly'ssane, and the quill she used to write her journal set next to her. She was determined to leave and took all her possessions with her. Her clothes consisted of a huntsman vest, grey trousers and a pair of huntsman moccasins. She also wore a jade amulet and a jade topaz ring and carried her journal and 20 glass arrows.
For some reason, possibly because she is alphabetically close to her, she was given Anya Herrick's schedule and factions. Of course, the AI packages are never used because she's dead.