Online:Voriak Solkyn
The UESPWiki – Your source for The Elder Scrolls since 1995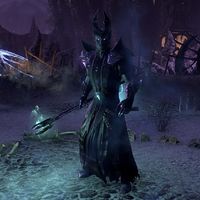 Voriak Solkyn is the final boss of the Maelstrom Arena, fought in the ninth round, the Theater of Despair.
He will begin this fight on the ground, firing necromantic spells at you and teleporting through the arena from time to time. After some time, however, he will teleport unreachably high into the air. A portal will then appear and spawn a spectral Clannfear, which will come close and attack you. Killing the Clannfear will spawn another one, unless you kill it on or near one of the sigils on the ground, which then will turn into a portal to the small ring above the arena. There, you will find Voriak Solkyn hovering in the air, protected by a barrier cast by three Animus Crystals. Destroy the crystals, and be careful to stand at the inner rim of the ring, as Voriak Solkyn's attacks will cause knockbacks and may send you back down into the lava surrounding the arena. If this happens, another Clannfear will spawn, which you'll have to use again to open a portal up. Once all Animus Crystals have been destroyed, he will go down to the arena floor again and take you with him. There, the whole process repeats until he is defeated.
Skills and Abilities
[
edit
]
Necrotic Swarm

Necrotic Blast
Related Quests
[
edit
]
Dialogue
[
edit
]
"After I kill you, I shall animate your corpse!"
"I summon your death!"
"Behold my lovely roiling cloud! I shall await you there."
"You are just a pest to be swatted away!"
"That just makes me even angrier!"
"Stupid mortal! That won't stop me!"
"Enough play! Time to end this game."
"Now I shall reveal my true power!"
"This will finish you!"
"I win! I always win."
"You can die. We Daedra cannot!" (After dying and resurrecting.)
Once the Animus Crystals on the upper platform are destroyed:
"Now for the final phase. Watch as I absorb all the power I need!"
Gallery
[
edit
]