Online:Tel Galen Tower
The UESPWiki – Your source for The Elder Scrolls since 1995
Fulfill your fantasies of a fungal flat with this fabulous Telvanni wizard's tower, on a private island on Azura's Coast! Comes complete with grand foyer, workshop, suite, and tower chamber ideal for magical research.
Zone
Vvardenfell
Location
Southeast of Sadrith Mora
House Prices
Unfurnished
)
Unavailable (8,000 
Furnished
)
Unavailable (10,000 
House Stats
Type
Notable
Size
Manor
Style
Telvanni
Traditional Furnishings
350 (700)
Special Furnishings
(?) (0)
Collectible Furnishings
40 (80)
Special Collectibles
5 (10)
Player Cap
24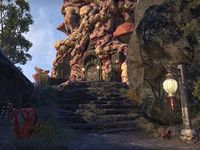 Tel Galen Tower is a player house on its own island to the southeast of Sadrith Mora. It was only available for purchase from the Crown Store for a limited time, from June 15 to June 19, 2017, and from February 7 to February 18, 2019.
The island houses docks and a partially-grown Telvanni mushroom tower. Tel Galen Tower has five rooms, including a top floor connected via levitation pads.
Base Furnishings
[
edit
]
Furnished
[
edit
]
Many of these items are found in the Unfurnished version and should be moved to the previous section when we determine which.
Conservatory (78)

Aquatic (2)

Boulders and Large Rocks (8)

Ferns (1)

Flowers (8)

Plants (6)

Mushrooms (28)

Saplings (4)

Shrubs (3)

Stones and Pebbles (7)

Trees (11)

Dining (31)

Chairs (12)

Benches (3)

Tables (16)

Gallery (8)

Paintings (5)

Thrones (3)

Hearth (35)

Baskets and Bags (4)

Breads and Desserts (2)

Cabinetry (5)

Cookware (3)

Dishes (6)

Drinkware (6)

Laundry (1)

Pottery (2)

Produce (2)

Stockroom (4)

Library (21)

Desks (5)

Shelves (16)

Lighting (40)

Braziers (6)

Candles (7)

Lamps (4)

Lanterns (3)

Lightposts (9)

Sconces (11)

Miscellaneous (2)

General (2)

Parlor (52)

Banners (11)

Rugs and Carpets (20)

Sofas and Couches (7)

Tapestries (7)

Tea Tables (7)

Suite (24)

Bedding (4)

Dividers (7)

Dressers (3)

Mirrors (2)

Nightstands (1)

Trunks (7)

Wardrobes (1)

Undercroft (3)

Incense (2)

Urns (1)

Workshop (23)

Cargo (10)

Stools (12)

Tools (1)
Achievements
[
edit
]
There are several achievements associated with this house:
Gallery
[
edit
]