Online:Shayaifa
The UESPWiki – Your source for The Elder Scrolls since 1995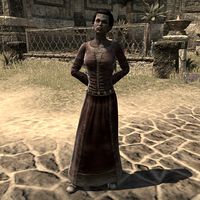 Shayaifa is one of the three Redguard sisters who rule the Manor of Revelry and kindly take in anyone who finds their way to Manor from the harsh lands of Coldharbour.
In actuality, she is a Dark Seducer who uses illusions to lull her victims into a false sense of security before feeding on them.
Related Quests
[
edit
]
Dialogue
[
edit
]
She can be first found with her sisters, talking with Stibbons next to a fountain. When you talk to her, she will suggest you take a break.
"You look so tense! You need to relax. Please, enjoy our hospitality and let all your worries slip away."
I don't understand why this place is so … peaceful.
"Why concern yourself with the whys and hows of this realm? This place is safe. We'll care for all your wants and needs. What else is there to tell you?
But you look so thin. You need to eat something. Go, find the banquet tables, have some food."
After you have eaten from the banquet, you can accompany Stibbons to the bathing pools. Shayaifa will be there and you can ask her about taking a soak.
"The manor is everything you hoped for, isn't it? But look at you! You could really use a bath."
Stibbons wants to soak in your pool.
"That's an excellent idea! And you're welcome to join him. In fact, I insist.
Before you enter the pool, though, I suggest you wash in the basin. It has the purest water, warmed by the underground springs."
You and Stibbons seem very friendly.
"Oh, we've become very close in the time he's been with us. He's such a fascinating man!
I hope we can get to know each other, too. I do so enjoy making new friends and meeting new people!"
Dark Seducer Shayaifa
Location
The Manor of Revelry
Race
Dark Seducer
Gender
Female
Health
146590
Difficulty
Reaction
Hostile
Class
Thundermaul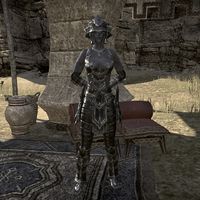 Once you have broken through the illusion with the help of Fatahala, Shayaifa will have taken Stibbons to the Manor house and will have locked him up. You will need to kill her to get the key to the cage. Shayaifa uses a battleaxe in combat and lightning magic.
When she sees you, she will scream at you, "Stibbons is mine!"'