Online:Registrar Riivel
The UESPWiki – Your source for The Elder Scrolls since 1995
Registrar Riivel
Home City
Mournhold
Location
Middle southern entrance to the City Center
Race
Dunmer
Gender
Male
Reaction
Friendly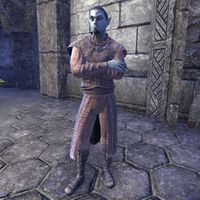 Registrar Riivel is an overworked Dunmer bureaucrat registering newcomers to Mournhold on the steps of the City Center.
Related Quests
[
edit
]
Quest-Related Events
[
edit
]
If the Maulborn and their alchemist have been destroyed, speaking to an ordinator at the city gates will direct you to Riivel for registration—as it is illegal to enter Mournhold without registering. Despite the queues of people waiting to be registered, the Tribunal Temple has ordered him to register you immediately and send you to Almalexia. You need to speak to him in front of the City Center.
"Word of the plague in the west has reached Mournhold. We were told to watch for someone matching your description. It's good to have you in the city."
You knew I was coming?
"Yes, of course. I have orders from the Tribunal Temple to register you and grant you access to the city immediately.
The Sacred Lady, Almalexia, requests that you attend her in the Temple at your earliest convenience."
Almalexia wants to see me?
"Yes, yes. I already said that. Weren't you listening?
It's a rare honor to receive an audience with the Sacred Lady. You should go now and leave this lowly clerk to his duties. We can't all have appointments with the divine."
If spoken to again, he will say:
"I'm terribly sorry, I can't spend more time chatting. There are a lot of people waiting for registration who don't have the same clout as you do."
Speaking to him after saving the Tribunal Temple and being sent to Selfora by Almalexia:
"You grace us with your presence, muthsera.
If this humble servant can assist you, please don't hesitate to ask."