Online:Moon-Priest Zargha
The UESPWiki – Your source for The Elder Scrolls since 1995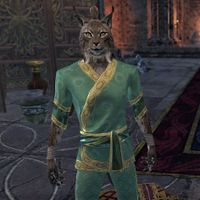 Moon-Priest Zargha is a Dagi Khajiit found in Two Moons at Tenmar Temple. He's succumb to the madness that has struck the temple and attempts to capture a Terror Bird.
Related Quests
[
edit
]
Quest Related Events
[
edit
]
Trail Zargha and you'll overhear him when you get close:
Moon-Priest Zargha : "Hah! This one has you now pretty butterfly!"
Once you enter the cave, the "butterfly" will get aggressive and corner Zargha:
Moon-Priest Zargha : "Ah! I'm going to need a bigger net!"
Kill the Terror Bird Matriarch, and he'll bemoan while he escapes:
Moon-Priest Zargha : "Oh no! You smashed it! Such pretty colors leaking out."
After you get to the root of the lunacy, you can find Zargha in the Temple with the other surviving Moon-Priests:
"Zargha caught them all. He ran and ran and ran, but they could not escape him. Now … now he can sleep. He will not mistake the beating of their wings for Dragons."
Dialogue
[
edit
]
After the madness has passed, Zargha can be found tending the Temple Grounds.
"Zargha feels foolish. Who could fear butterflies? But he cannot look upon them any longer without deep feelings of dread. It didn't used to be this way, but he cannot remember what changed."