Online:Legionary Mincarione
The UESPWiki – Your source for The Elder Scrolls since 1995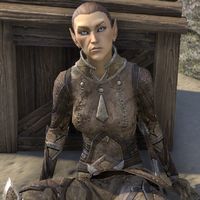 Legionary Mincarione is an Altmer scout for the Aldmeri Dominion, serving under Captain Ciranya in a unit consisting of reformed thieves and highwaymen. They were responsible for guarding the lighthouse at South Beacon, but were caught unawares by a Maormer invasion force and defeated, while Mincarione was wounded in the fighting and not able to get far.
Related Quests
[
edit
]
Quest-Related Events
[
edit
]
The Serpent's Beacon
[
edit
]
You can come across an injured Mincarione near South Beacon, when you talk to her, she will explain what happened and will ask you to rescue her Captain.
"They … came from nowhere. By boat, maybe. Never been this far inland. Captain Ciranya …."
Tell me what happened.
"Maormer pirates. They've taken South Beacon. My captain, my crew. All captured.
They took control of the lighthouse. This is bad. With South Beacon as a staging area they can raid the Summerset Isles at will."
Those wounds look bad.
"I can make it back to Vulkhel Guard. You have to find Captain Ciranya. She'll know what to do.
She's a prisoner at the Maormer camp down the beach. Please … hurry."
I'll find her. Tend to those wounds.
After rescuing Captain Ciranya and the other legionaries in the Maormer camp, they will meet up at Skylight Beach nearby. There you will also find Mincarione, who is injured and immobilized and is being tended to by Legionary Uulion.
"Thought I might make it to Vulkhel Guard, but I just couldn't go any farther."
I have a question for you.
"I'm not going anywhere. Go ahead."
What happened to your troop?
"We were practicing stealth techniques on the beach. They came out of nowhere. Rushed us. They cut down half the troop before we could blink."
How did you avoid capture?
"By the skin of our teeth. Legionary Tanacar and I were both wounded. We obviously didn't make it very far. I think Legionary Artaste may have gotten out alive, though."
After you destroy the lighthouse and halt the Maormer's plans, Mincarione is duly appreciative.
"Thank you. Without your help, I don't think any of us would have survived."