Online:Hopper (NPC)
The UESPWiki – Your source for The Elder Scrolls since 1995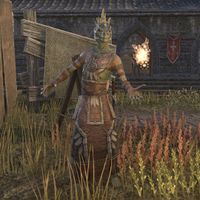 Hopper is an Argonian mage who is one of the Hidden Armigers guarding Jorunn the Skald-King during his meeting with you and Vanus Galerion. He will stand by, idly juggling a fireball.
When you approach, Thrush will warn you and his fellow Armigers will back him up.
Thrush: "Watch yourselves, outsiders. Give us a good reason, and the Armigers will cut you down where you stand!"
Hopper: "We'll burn you …."
Longfin: "Freeze you …."
Scathecraw: "And shatter you …."
Thrush: "Any questions? I didn't think so."
Jorunn the Skald-King: "Silence, Thrush! Master Galerion, please continue."
Vanus Galerion: "My companion hopes to speak with you about the impending Coldharbour crisis."
Jorunn the Skald-King: "I have heard tales of this one. The Skald-King favors the bold, even among his enemies! Come, champion. let us speak."